Hot Springs at Home
Hot Springs Mineral Bath Therapy
by Medicine Springs
~ Harnessing The Geothermal Healing Powers of Mother Nature ~
What is Hot Springs Mineral Bath Therapy?
Since the beginning of mankind, humans have used hot mineral springs for their healing properties, now we are bringing that healing to the privacy of your home. You can create Your Own Hot Springs Mineral Therapy at Home.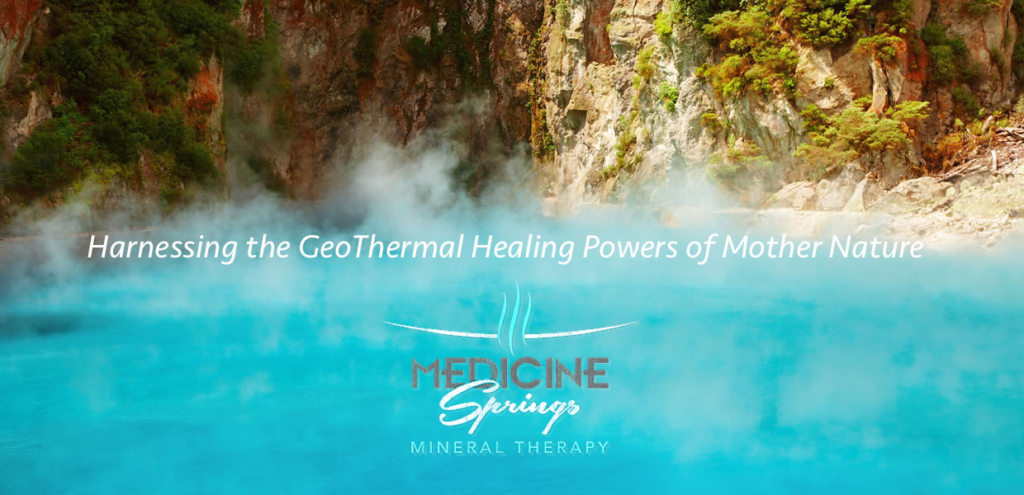 This hot springs mineral therapy by Medicine Springs was formed by taking a chemical analysis of the most healing natural springs to be found anywhere in the world. We leveraged these results, removed the water, separated the compounds, isolated the reactions and packaged it. This allows anybody to turn his or her bathtub or hot tub into a world-famous healing mineral spring!
Skin Therapy
As the largest organ in the body, the skin is often overlooked in modern day healthcare. The skin has it's own unique problems and demands its own special care. Eczema and Psoriasis are common issues as well as maintaining the proper mineral and moisture contents in the skin. Fortunately, the skin is permeable and can absorb nutrition as well as sweat it out. Medicine Springs has identified world renowned springs known for their skin care. Springs which are actually mentioned on the eczema and psoriasis foundations pages for providing relief! We have packaged this special blend for you to use in your own hot springs at home.
Eczema relief
Psoriasis relief
Skin health and healing
Enjoy your hot springs at home
Joint Relief
For thousands of years prior to the age of "modern medicine" humans across the globe sought out the healing and medicinal waters of natural geothermal mineral springs. These springs were unequaled in their ability to relieve the common however incredibly painful effects of Arthritis, fibromyalgia, and other joint issues commonly associated with aging. Soaking in hot springs is actually mentioned by the arthritis foundation as a method of relief. Medicine Springs Joint has identified some of the most beneficially healing waters for these conditions from around the world. We have taken the best of these springs and packaged them for home use. Our goal is to provide at home relief in the way Mother Nature intended.
Arthritis Relief
Fibromyalgia relief
Joint issues
Skin health and healing
Sport Formula
As ancient armies marched the globe, they carried their armor, their weapons, and their necessary belongings with them. The fought battles by hand and in an extremely physical and personal confrontation. When the battles were over, wherever possible, these warriors would seek out geothermal mineral springs to soak in. These mineral laden waters were like soaking in a multivitamin and absorbing it through the skin. This allowed the body to use the semipermeable membrane of the skin to pull in the necessary minerals to heal itself. This has a noticeable effect on the soreness of muscles and body aches. Medicine Springs has found this to be true with modern day athletes and the elite soldiers of today. We have sought out the medicinal waters of these "warrior pools" and packaged them for use in your own personal "warrior tub".
Sore Muscle relief
Speeds recovery time between training sessions
Aids in blood flow to speed up healing
Skin health and healing
Mineral Springs – Hot Springs Mineral Bath Therapy Elemental Benefits:
The elements used in Medicine Springs have numerous benefits. It's like having your own healing hot springs at home. Below you will find a brief intro to those used in our formulas.
POTASSIUM (K)
This element is associated with the normalization of heart rhythms, assisting in reducing high blood pressure and aids in eliminating body toxins. It is also used in converting blood sugar to energy and promotes healthy skin.
SODIUM (Na)
Natural Salts are said to assist with the alleviation of arthritic symptoms, stimulate the body's lymphatic system and help to maintain body fluid balance.
CALCIUM (Ca)
Calcium can help to strengthen bones and prevent osteoporosis. It is essential in regulating many internal organs such as the heart.
MAGNESIUM (Mg)
Aids in converting blod sugar to energy and promoting healthy skin.
SULFUR (S)
Hot springs rich in sulfur are used for a variety of conditions including skin infections, respiratory problems, and skin inflammations.
BICARBONATES (HCO3)
Thought to assist in improving circulation, which aids against cardiovascular disease including hypertension. Bicarbonate waters are also thought to have a positive affect on nervous system imbalances.
BORON (B)
Thought to play a major roll in preventing osteoporosis and arthritis, metabolizing hormones including increasing testosterone in men and regulating estrogen in women. It is also thought to be helpful in joint repair and improving brain and cognitive performance.
LITHIUM (Li)
Believed to have a calming affect and aid in the formation of new brain cells and protect against neurodegenerative diseases.
Testimonials
My hands are particularly hard hit by arthritis, which has been deforming and painful.  On a road trip to Alaska a few years ago, we stopped at a hot springs resort outside of Fairbanks.  An amazing thing happened while we were swimming in this natural hot water.  I could close my fingers and the pain was significantly less than before.  What a relief!   We began to go to various hot springs around the world and found that some were more effective for my arthritis and some were more effective for my husband's skin condition.  We were amazed and became true believers in the power of the minerals in the springs to help us.  We must be honest, not every spring is alike and not every spring gave us relief.  This is the glory of Medicine Springs.  They have taken the chemical composition of those worldwide springs that are known to be effective for certain conditions and re-created this formula so that we can enjoy the relief at home.   This is an amazing product and I am sure a lot of people are going to agree with me.  Nature is amazing, and so are Medicine Springs products.
– Brenda Price in Helena, MT
Disclaimer:
You must take absolute responsibility for your healthcare and decisions. It's your body, and your mind. Always remember that no matter who or where the information comes from, the decision is always yours to make. It's obvious that even doctors and the established medical heath care system make mistakes, and may or may not have your best interests in mind. Always use your best judgment to make the decision that is right for you. Self -responsibility is a first step to self-empowerment.
Many of the products and the claims made about specific products on or through this site have not been evaluated by the United States Food and Drug Administration and are not intended to diagnose, treat, cure or prevent disease. Neither should you blindly trust the FDA of course. Do the research if you have questions.
The information provided on this site is for informational purposes only and is not intended as a substitute for advice from your physician or other health care professional.